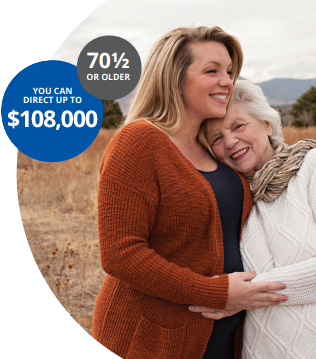 Tax-Wise & Medicare-Wise Charitable Giving Today
If you are at least 70 1/2, you can make annual charitable gifts through your IRA. At your direction, your IRA custodian will transfer the gift you designate directly from your IRA to a qualified charity. This is known as a Qualified Charitable Distribution, or QCD.
Potential tax & Medicare advantages are listed below. Each IRA company has instructions for making a QCD. If you need help getting QCD directions for your IRA company or we can help in any other way, please contact us.
April 2020 Update - Waiver of IRA RMDs - Retirement plan owners over age 72 must take a required minimum distribution (RMD) each year from an IRA or other qualified retirement plan. For 2020, the RMD is waived. Because the 2020 RMD is calculated based on the December 31, 2019 value and the markets were at a higher level at that time, Congress determined it would be unfair to require IRA owners to sell securities in a down market in order to take their RMDs. Therefore, the 2020 RMD is not required to be distributed. The 2020 RMD waiver also applies to inherited IRAs. The RMD for IRA owners will resume in 2021.
Using Retirement Assets to Leave a Legacy
You may also name a charity as a beneficiary of a portion of your IRA or other retirement asset upon death. This can be a tax-wise and simple way to make a legacy gift. You can use pre-tax basis retirement assets to fund your legacy gift and leave other non-taxable assets to heirs. Naming beneficiaries for your retirement assets is done using your beneficiary form, not your will or trust. Please contact us to learn more about this simple and impactful gift option.
Allows you to give from pre-tax assets
Helps avoid limits on charitable deductions
Minimizes the effect your giving has on your cash flow because the gift is from your assets, not your checkbook
You may be looking for a way to make a big difference to help further our mission. An IRA charitable rollover is a way you can help continue our work and benefit this year.
IRA Charitable Rollover
IRA (Custodian)
UWSBC

Benefits of making a current charitable gift through your IRA
Avoid taxes on transfers of up to $100,000 from your IRA to United Way of Santa Barbara County
Make a gift that is not subject to the deduction limits on charitable gifts
Help further the work and mission of United Way of Santa Barbara County
How to make a current charitable gift through your IRA
Contact your IRA plan administrator to make a gift from your IRA to us.
Your IRA funds will be directly transferred to United Way of Santa Barbara County to help continue our important work.
Please note that IRA charitable rollover gifts do not qualify for a charitable deduction.
Please contact us if you wish for your gift to be used for a specific purpose.
MORE IRA INFORMATION
If you would like a handout about the IRA Charitable Rollover, either by mail or electronically please request one here.
If you have any questions about an IRA charitable rollover gift, please contact us. We would be happy to assist you and answer any questions you might have.
Donor Advised Funds
Many people have Donor Advised Fund (DAF)s which allow them to donate assets for charity today – and receive a tax deduction now – even though the actual funds are not granted by the donor to the final charity until some point in the future. DAFs can be used to make current gifts and future gifts.

Learn more making a gift to United Way of Santa Barbara County through your existing DAF.